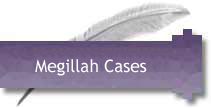 Silver Megillah Cases
STAM works directly with the finest Judaica silversmiths- Bier Judaica and Netafim. Each Megillah case is hand crafted in Jerusalem. We also work with Gershi, one of the finest filigree artisans, who creates beautiful sterling silver filigree megillah holders in Israel in the age old Yemenite fashion.
Due to the high cost of silver, Bier also offers all their megillah cases in the more affordable options of solid brass, high quality sterling silver plating over brass or solid hammered copper with brass ornamentation.
As the price of sterling silver and the dollar to shekel exchange regularly fluctuates and these megillah cases are handcrafted to order we request a price quote (takes 1-2 business days) from our silversmith upon each inquiry. The prices may change at any time.
Each megillah case is made to order and production time is 2-3 weeks. Expect it to take longer before Purim and major Jewish holidays.
The end of Sephardic megillah scrolls must be attached to a single roller or pole (amud). The megillah scroll typically permanently remains in the case and is accessed from a slit on the side and is rolled back into the case with the upper and/or lower handle. Ashkenaz megillah scrolls do not have to be attached to a roller so are mostly housed in a free standing megillah case. The scroll is accessed by removing the cover from the top.
We can entertain custom orders and variations to present megillah holders. In addition, some megillah cases can be inscribed with a dedication.
Please note that due to the fact that each piece is hand crafted there may be slight variations from the images shown.
For a quote please contact us with ALL the following information:
Name of the artisan (Bier, Netafim or Gershi)
Product number(s)
(Bier only) requesting quote for sterling, silver plated and/or copper/brass
Height and diameter of the megillah scroll
Megillah scroll is Sephardic or Ashkenazic
Megillah Cases by Bier
Megillah Cases by Netafim
Megillah Cases by Gershi
Back to top