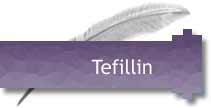 Tefillin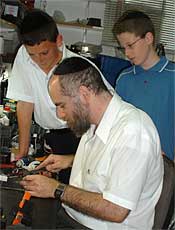 STAM provides kosher tefillin of the highest quality and strictest standards while maintaining very reasonable prices. Our tefillin are all tefillin gassot -gasos. In addition to Ashkenaz, Bais Yosef tefillin and Sephardic tefillin for bar mitzvah boys and adults we also offer small traveling tefillin (miniature tefillin), Chassidic, Arizal tefillin, Rabbeinu Tam tefillin, Shimusha Rabba tefillin and Chabad tefillin.
In addition to the gasos tefillin offered, we also deal with more mehudar tefillin. We can also upgrade any of the gasos tefillin shown with more mehudar batim or batim from a few other fine makers or hechsherim.
Our retzuos, tefillin straps, are avodas yad, handmade, and are all black (through and through). The retzuos all come with a hechsher and for the low to mid priced tefillin you can upgrade them to those made under the hechsher of the Edah Charedis. We automatically include the top of the line Edah Hacharedis, black on black retzuos with our mehudar tefillin.
If there are any specific hiddurim or chumros that you would like in the batim, klaf or ksav, please let us know and if they aren't already included we can likely accommodate you.
Bar mitzvah tefillin should be ordered at least 4-6 months in advance of when the bar mitzvah boy will begin putting them on. While we try to maintain stock for last minute orders, particularly of right handed tefillin, we often require 1-3 weeks to ship. If you require tefillin on short notice please contact us before ordering. The process of making tefillin requires months and involves a few dozen people, including the batim makers, klaf makers, retzuos makers, sofer, examiners and batim assembler. Do not leave tefillin for the last minute. It should be the first on the to do list in preparation for the bar mitzvah celebration.
Gassot tefillin: Ashkenaz tefillin & Sephardic tefillin
The tefillin gassot - gasos options are arranged in order by price. The upper section is Ashkenaz tefillin and the lower section is Sephardic tefillin. All gasos tefillin offered are appropriate for bar mitzvah tefillin. Contact us for Chabad tefillin and Arizal, Chassidic tefillin, also known as sfard tefillin.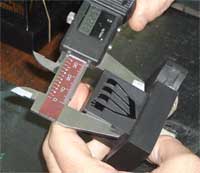 Please click on the image by any option for details and a larger view of the sofer's writing.
Please check out our exclusive, hand-embroidered tefillin bags!
Ashkenaz (Bais Yosef) Tefillin Options
Gasos Tefillin
Code: tefillin-GA2
Price: $649.00
Gasos Tefillin
Code: tefillin-GA2.5
Price: $765.00
Tefillin
Code: tefillin-GA-2.7
Price: $945.00
Gasos Tefillin
Code: tefillin-GA4
Price: $1220.00
Gasos Tefillin
Code: tefillin-GA5
Price: $1495.00
Sephardic Tefillin Options
Gasos Tefillin
Code: tefillin-SG1
Price: $565.00
Gasos Tefillin
Code: tefillin-SG3
Price: $945.00