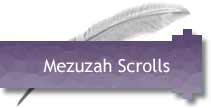 Mezuzah Scrolls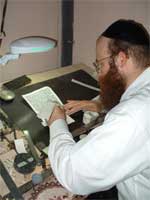 Our mezuzah scrolls are arranged in order by size and price. The upper mezuzah scroll options are according to the Ashkenazic, Bais Yosef, tradition and those according to the Sephardic tradition follow below.
Please click on the link before placing your mezuzah parchment order for very important information. We also suggest you read the What is mezuzah? page.
Click on the link to understand the terminology of the various halachic levels of our mezuzah scrolls.
The mezuzah case or mezuzah holder, also known as a mezuzah or mezuzahs, houses and protects the handwritten mezuzah scroll. We often use a decorative mezuzah case as the Torah teaches us, This is my G-d and I will glorify him, from which we learn that it is proper to enhance the beauty of G-d commandments. The mitzvah of mezuzah is enhanced not only by choosing a beautifully written mezuzah scroll, which is of primary importance, but also by housing it in a decorative mezuzah case. This enhancement expresses our love for G-d and his commandments. Please visit our mezuzah cases pages.
Please click on the image by any mezuzah parchment option for details and a larger view of the writing.
Ashkenaz (Bais Yosef) Mezuzah Scrolls
4 inch (10 cm)
Code: mezuzah-scroll-MA2
Price: $41.50
5 inch (12 cm)
Code: mezuzah-scroll-MA4
Price: $49.00
5 inch (12 cm)
Code: mezuzah-scroll-MA4.5
Price: $84.95
6 inch (15 cm)
Code: mezuzah-scroll-MA5
Price: $97.00
Sephardic Mezuzah Scrolls
5 inch (12 cm)
Code: mezuzah-scroll-MS1
Price: $44.95
5 inch (12 cm)
Code: mezuzah-scroll-MS2
Price: $55.00