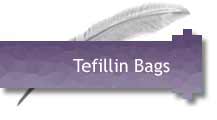 Tefillin bags
Our tefillin bags are exclusively from the oldest and finest manufacturer of Judaica Embroidery in Israel. They opened their doors as a small storefront in Jerusalem in 1929 and today the 3rd generation continues the tradition of excellence. House your tefillin or your son�s bar mitzvah tefillin in one of our regal hand embroidered tefillin bags.
In addition to tefillin bags, our Judaica embroidery collections include Torah covers � mantles, bein gavra, Torah ark curtains, parochet � paroches, bimah covers, amud covers, velvet Torah cases, megillah covers and navi covers.
Hand embroidered tefillin bags
bar mitzvah tefillin bags
We offer a special selection of their most beautiful, hand embroidered bar mitzvah tefillin bag designs. The selection will vary depending on availability.
Made from fine, dark blue velvet and metallic thread.
Each tefillin bag design is embroidered completely by hand.
The inside of each tefillin bag is lined with a thick, 100% cotton liner. This is very long-lasting and enables the enclosed tefillin to breath. (Many manufacturers use a cheap, plastic lining.)
A quality, clear, protective plastic bag is included.

We specialize in custom designs.

Create your own design or our embroiderer will design it for you.

Choose from a variety of materials and colors.
Contact us for details!
Order the tefillin bag you desire. You will then be able to order your name, initials, etc., to be embroidered in Hebrew and/or English on the bag and to choose the thread color.

Click to enlarge

Click to enlarge

Click to enlarge

Click to enlarge

Click to enlarge

Click to enlarge

Click to enlarge

Click to enlarge
Tefillin Bag-2217S/G
59.00